2020 has been tough with a cancelled footy season…. but Redbacks have managed to have two friendly matches with the Cologne team. This post gives a report on the two matches.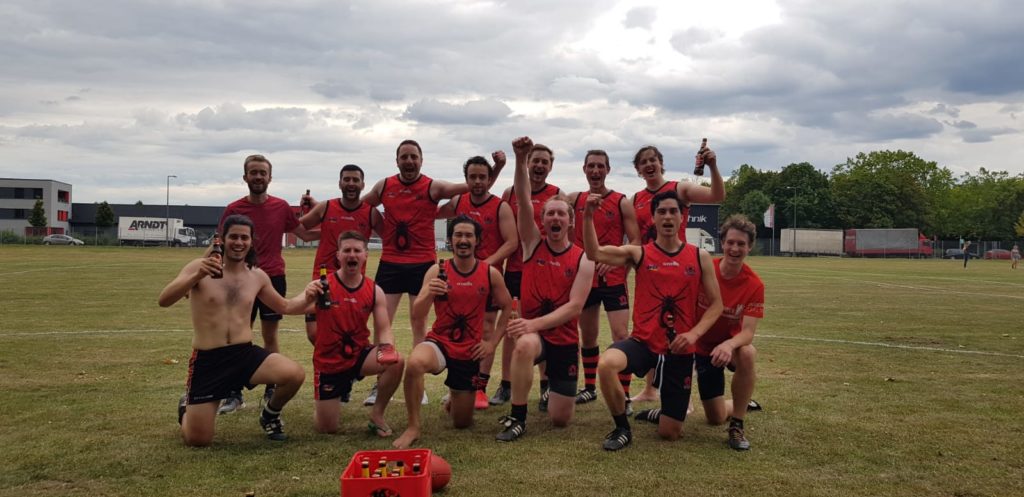 25 July 2020 Cologne hosted Frankfurt
Location: Bezirkssportanlage BocklemündHeinrich-Rohlmann-Straße, Ossendorf, 50829 Köln
Start Time: 14:00
Format: 9 vs 9, 20 min quarters
Final score: Lions 17.10.112 – Redbacks 4.9.33
Game Highlights:
Debutants:
Ben
Andrew Molloy

Positives:
Footy was back and we all had fun!! Cologne had 12+ players so they gave us 2 players.
the Debutants made an impact. Andrew opening up the scoring with his first mark and shoey goal. Ben had some great tackles and was rewarded with a few "Balls"!!
Jase was pumped for the match and showed us how to attach the ball, and take the game on. Nice specky in the pictures below.
Basti was very "presidential" showing a lot of fight and was seen all over the ground
Training pays off, as Marc and Jan kept on stepping up to meet the seemingly ongoing pressure to the back line.
All in all despite the redbacks best efforts, the Lions fitness, teamwork and efforts around the ground clearly showed how hard work and a lot of training can translate across into a really solid match day performance.
Things to work on:
20 minute quarters felt like a loooong time. Our fitness did not match Cologne's and with a limited bench they ran over the top of us.
We didn't have established structures and our fitness made man on man strategy difficult to maintain. We did not have good positioning due to lack of game experience this season, that made it difficult to orchestrate smarting positioning that could have reduced our running. We lacked direction and a target up front.
There was a lot of skill errors but this was our first game in a long time. This increased turnovers and made it difficult to have get into goal generating positions.
We were too calm off the ball and too hectic when we had it. This is a sign of low intent off the ball and not enough talk around the man with the pill (i.e. the ball).
Injuries:
Kevin and Domink had foot issues in the first quarter and Ben had sore ribs late in the game.
26 September 2020 Frankfurt hosted Cologne
Location: Am Römerhof 13, Frankfurt am Main
Format: 9 vs 9, 20 min quarters
Start Time: 15:00
Final score: Redbacks 47 – Lions 64
Game Highlights:

Debutants:
Santiago Rubio
Steven Williams

Positives: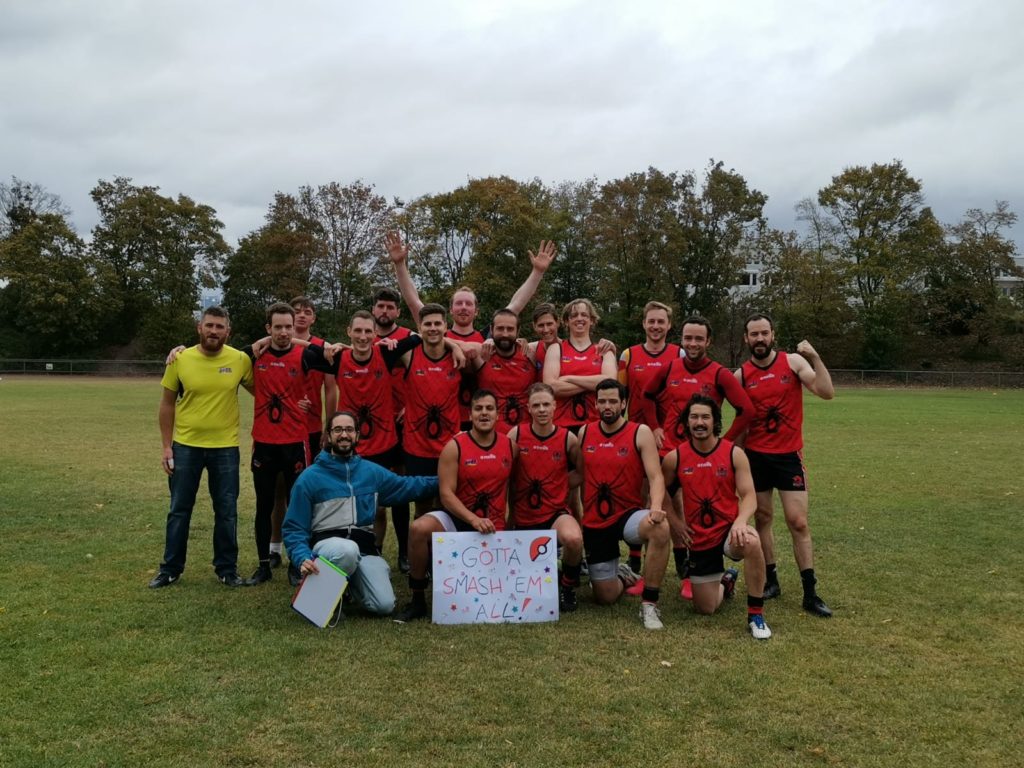 Great leadership by Xavier that has set the standard for setting up for home games! He delegated tasks to prepare the ground through to the all important beers and wrap up of the day; also he created the vision for the game and gained team support by preparing game day training drills, player positions, game strategies and post game reviews.
Effort was fantastic all game, everyone tried their best which is all we can ask for.
We worked as a team and stood up for each other. Was really proud of how we played hard but fair all game
Our ball movement and forward structure worked well. Tiz had close to 10 set shots at goal which is a great sign we were hitting his leads
Inexperienced guys showed plenty of great signs. Special shoutout to Santi who was fantastic tackling and attacking the ball
Able to lift after quarters. We addressed issues at the breaks and came out stronger in the start of the next quarter. For example, we were losing clearances in the first quarter due to them having an extra player at the stoppage, but worked it out by bringing a forward up to support.
Things to work on:
Our talk still needs to get a lot better. We can be more vocal around the ground and from the bench. Even if you're not comfortable talking about tactical things, everyone can yell out support
Fitness, its an obvious one but with us having an extra 3-4 players we should have run over the top of them at the end
This also affected our skills as we fatigued, had some skill errors late in quarters when we were tired
We cost ourselves a few goals with kickouts missing the target. Need to make sure we're always going long to the boundary if we're not 100% sure on a pass
Structurally, we got lost a little bit with guys out of position that cost us at times. This is something we need to practice more at training which is only possible with good numbers to do proper drills
Injuries:
Santiago Rubio Partial MCL tear (~25%), ACL/meniscus all intact, slight femur bruising. No surgery needed, just a knee brace for 4-6 weeks.
Marty injured his shoulder…